ABOUT UNDERSTANDING VOICES
Understanding Voices (UV) is a new website that will make it easier for people to find information about different approaches to voice-hearing and ways of supporting those who are struggling with the voices they hear.
It is being produced by Hearing the Voice (Durham University) in close collaboration with voice-hearers, their families and allies, and mental health professionals.
The website will cover a wide variety of topics, ranging from what it is like to hear voices and what's happening in the brain, through to the pros and cons of medication, cognitive behavioural therapy and peer support. It will present practical techniques for managing distressing voices, information for families and friends, and also shed light on the links between voice-hearing and inner speech, trauma, creativity and spiritual or religious experience.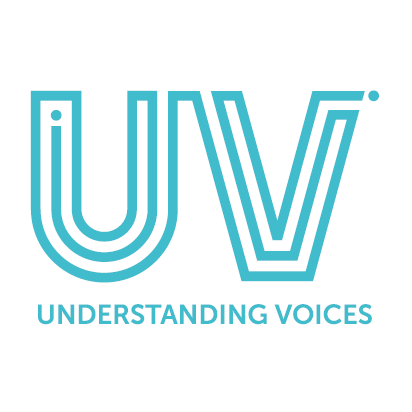 CORE THEMES
Understanding Voices will contain three core sections.
The modules in each section will include variety of resources: multi-media, freely accessible research articles, personal narratives, reviews of the evidence base for specific therapies and (where appropriate) sources of support.
A range of different ways of understanding or making sense of voices, including psychological, neuroscientific, historical, literary and spiritual approaches.
Comprehensive practical information and coping strategies based on peoples' everyday experience of living with voices.
Information about different therapeutic options for dealing with distressing voices, including psychopharmacology and 'talking therapies'.
How have voice-hearers been involved in the making of this resource?
Voices-hearers have been involved in Understanding Voices every step of the way.
Rachel Waddingham (voice-hearer, mental health trainer, researcher, and leading figure in the international Hearing Voices Movement) is a member of our editorial board, the body that is responsible for decisions on all aspects of project management, website structure and content. A robust stakeholder consultation process has also engaged over 100 voice-hearers, family members and clinicians in identifying key needs for the site.
The consultation process revealed an urgent need for practical, front-line information and for stories from lived experience. Elisabeth Svanholmer (voice-hearer, mental health trainer) and Rufus May (Hearing Voices Group facilitator) were then commissioned to find out more about the coping strategies that voice-hearers use to deal with distressing voices through a series of workshops and an online survey. Eve Mundy (Voice Collective) and other members of the voice-hearing community have subsequently been commissioned to develop this material into written content for the UV site.
Prototype versions of Understanding Voices and draft content for the website are being tested by an end-user group comprised of voice-hearers, their families, friends and clinicians.

A note on the use of personal testimony:
All the personal testimonies that have been included on the Understanding Voices website were gathered by Elisabeth and Rufus as part of their research, or by Hearing the Voice unless otherwise stated. Everyone we contacted gave their permission to include their comments on the site.
Where we have included testimonies from other sources, we have linked back to the original publication and, where necessary, done everything we can to seek permission from authors and editors to use the quotations on our site.
If you have any queries about this process, please email Victoria Patton.

Understanding Voices will launch in September 2019.