About Understanding Voices
Understanding Voices (UV) is a website that makes it easier for people to find information about different approaches to voice-hearing and ways of supporting those who are struggling with the voices they hear.
It has been produced by Hearing the Voice (Durham University) in close collaboration with voice-hearers, their families and allies, and mental health professionals.
The website covers a wide variety of topics, ranging from what it is like to hear voices and what's happening in the brain, through to the pros and cons of medication, cognitive behavioural therapy and peer support. It will present practical techniques for managing distressing voices, information for families and friends, and also shed light on the links between voice-hearing and inner speech, trauma, creativity and spiritual or religious experience.
Understanding Voices launched on 11 September 2019. The launch was accompanied by a public symposium on 'Hearing Voices: What do we need to know?', which took place in Newcastle upon Tyne.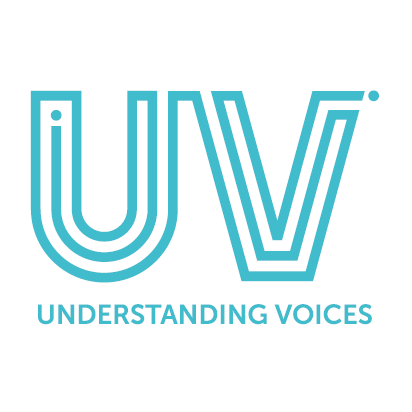 How have voice-hearers been involved in the making of this resource?
Voices-hearers and their allies have been involved in Understanding Voices every step of the way.
Rachel Waddingham (voice-hearer, mental health trainer, researcher, and leading figure in the international Hearing Voices Movement) is a member of our editorial board, the body that is responsible for decisions on all aspects of project management, website structure and content. A robust stakeholder consultation process also engaged over 100 voice-hearers, family members and clinicians in identifying key needs for the site.
The first phase of our consultation process revealed an urgent need for practical, front-line information and for stories from lived experience. Elisabeth Svanholmer (voice-hearer, mental health trainer) and Rufus May (Hearing Voices Group facilitator) were then commissioned to find out more about the coping strategies that voice-hearers use to deal with distressing voices through a series of workshops and an online survey. Eve Mundy (formerly Voice Collective) and other members of the voice-hearing community subsequently developed this material into written content for the UV site.
Prototype versions of Understanding Voices and draft content for the website were tested by an end-user group comprised of voice-hearers, their families, friends and clinicians. You can find out more about the headline points of feedback from the prototype testing and how we developed the site in response by reading this blog post and looking at this table.
The McPin Foundation were commissioned to evaluate the way people with lived experience were involved in the development of UV. If you would like a copy of this report, please email Victoria Patton.
Watch Project Lead Victoria Patton talk about the development of Understanding Voices and how voice-hearers, their families and friends, allies and health professionals were involved in the process.
A note on the use of personal testimony

There are over 300 quotations and longer personal testimonies from voice-hearers and their allies on the Understanding Voices website. The majority of these were gathered by Elisabeth and Rufus as part of their research, some were sourced by Hearing the Voice, and others come from published research, blogs, books and media articles.
Where the quotations come from research undertaken as part of the development of this website, we have allocated a pseudonym to protect the identity of the contributors and marked the quotation with an asterisk (*).  Thank you to those who participated in the research process for giving their permission to share these comments and reflections on our website.
Where we have included testimonies from other sources, we have named the contributor as they appear in the original book or article and embedded a link to the online version where possible. We have done everything we can to seek permission from authors and editors to reproduce the quotations on our site, where necessary.
If you have any queries about this process, please email Victoria Patton.
The Understanding Voices team
Editorial & Project Lead: Victoria Patton
Editorial Board: Angela Woods (Chair, Nov 2018–19 & current), Charles Fernyhough (Chair, Dec 2019–Oct 2020), Ben Alderson-Day, Rachel Waddingham (voice-hearer, mental health trainer), and Victoria Patton (Chair, July 2017–Sept 2018). 
Digital Content and Communications Officer: Rebecca Doggwiler
Research Assistant (Psychology): Jade Peters
Editorial Consultant: Akiko Hart (London Hearing Voices Project Manager, Chair of ISPS UK)
Original conception: Charles Fernyhough
If you have any queries or would like any further information about Understanding Voices, please feel free to get in touch.